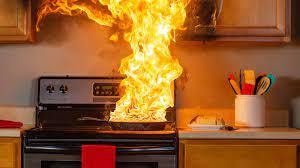 According to the American Burn Association more than 47% of fires in the home are started in the kitchen most often while cooking.  "Home Cooking Fires" a report completed for the National Fire Protection Association (NFPA) in 2020 identifies that cooking caused an average of 172,900 reported home structure fires per year (49 percent of all reported home fires in the US). These fires resulted in an average of 550 civilian deaths (21 percent of all home fire deaths) and 4,820 civilian injuries (44 percent of all reported home fire injuries) annually. Additionally, the percentage of apartment fires started by cooking was nearly twice that of cooking fires in one- or two-family homes. 
Unattended cooking was by far the leading factor in cooking fires and cooking fire casualties. Abandoned or discarded material, which may have been related to unattended cooking, ranked second in the causes of cooking fires and third in cooking fire deaths and injuries.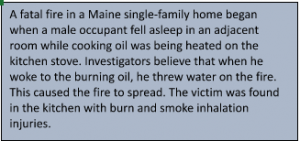 In another common scenario, combustible materials such as wrappers, potholders, or clothing caught fire when they were left by or came too close to hot cooking equipment.
In 2014–2018, half (49 percent) of the people who died in cooking fires were at least 55 years of age. The 55–64 age group had the largest share of home cooking fire deaths. People 85 and older have a risk of dying in a cooking fire that is 5.5 times higher than that of the overall population. NFPA's analysis of home fire victims of all causes found that home fire victims who were 85 and older were more likely to have died in a fire caused by cooking than by any other cause. Young adults aged 20–34 were at the highest risk of non-fatal cooking injuries. This risk of greater injury or death increases with age is due to physical, visual, hearing or mental impairments that may slow in seniors impacting the quick action necessary in a fire emergency. This together with forgetfulness and early stage dementia which seniors often suffer from, result in significantly increasing the risks of death and critical injury of seniors when cooking.
However, cooking is an important aspect of life and an activity that is enjoyed by many seniors. Cooking may be one of the last activities seniors enjoy. You may now be asking, 'is there a smart cooking device that could benefit my elderly loved ones, without a huge investment?" Recognizing this problem, Tochtech developed SmarturnsTM, which solves stovetop kitchen fires by transforming any stove into a smart stove. A first-in-class stove safety product Smarturns alerts a stove user and caregivers when a stove is on and unattended. Smarturns works on gas and electric stoves and supports 98% of stove models in the market. A cost-effective solution, that is simple to install, Smarturns' intelligent stove knobs and motion sensor can detect when the stove is on and unattended. With Smarturns installed, the older adult will be reminded through a local alarm that the stove is on and unattended, and a caregiver can also be notified via text. These two layers of safety ensure a fire risk is avoided. To learn more about Smarturns and keeping your loved ones safe and supporting their independence please visit Tochtech Technologies website.