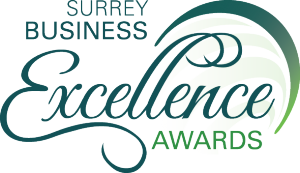 We are thrilled to announce that Tochtech Technologies has been selected as one of three finalists for the 2019 Surrey Business Excellence Awards, for the 1 – 10 employee category. We congratulate all finalists and wish each and everyone the best of luck. The winners of each category will be announced at the Awards Night on November 13th, 2019.
This Surrey Board of Trade awards program which has been taking place over the last 20 years, celebrates Business in Surrey – a great place to live, learn and work! The businesses featured each year – the nominees and finalists – have reached a special point of business success. The event celebrates the strength and innovation within every entrepreneur to take an idea and use it as the foundation for building a business. Tochtech is honoured to be amongst a group of such accomplished companies.
Founded in 2014, Tochtech Technologies continues to build its consumer and business customer base, fulfilling its mission to build smart, cost-effective senior care solutions that offer caregivers peace-of-mind while enabling seniors to live healthier and safer lives. Tochtech's philosophy centres around the use of technology to eliminate the risk and sense of disconnect for seniors, especially those living independently.
Feedback from customers such as the following on our Vericare product makes our work so satisfying: "I cannot thank Vericare (Jessica and her colleagues) enough for introducing me to their product. During the time that my mom lived with us in our home, it was very difficult to get a sense of what was happening with her during the night and even during the day if I happened to be out. By installing the sensors, I immediately had  "peace of mind". I was able to better understand my mom's sleep patterns as well as what she was doing during the day. The service I received from Vericare was professional and very caring. Thank you so much for everything".