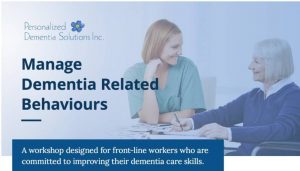 Our good friend Karen Tyrell from Personalized Dementia Solutions Inc. is putting on a highly informative dementia workshop in the Richmond area next week on Tuesday August 13th from 6-9pm at the new Camel Senior Shop.
Workshop details can be found below by clicking on "Workshop Details" at the end of this post.
Tochtech Technologies recognizes the value of having all frontline caregivers receive practical dementia skills and is sponsoring this event. This has enabled us to extend this invitation to you, to attend this workshop at no cost!
As seats are limited you will need to register participants by Monday Aug. 12th at 3pm. Registration can be completed using the following Eventbrite link:
https://www.eventbrite.ca/e/cracking-the-dementia-code-live-certificate-workshop-creative-ways-to-manage-changed-behaviours-tickets-68406019245
Participants will receive a personalized certificate for their attendance.
The numbers are rising in those being affected by dementia…until there is a cure, we can do our part to help frontline caregivers receive the best education possible in dementia care.
We look forward to your participation in this great event.