Improving quality of sleep for residents in Long Term Care (LTC) supported by data driven feedback
Improving Sleep Score has shown to improve residents' mood, behaviour and overall wellbeing

Sleepsense provides caregivers with the information to make necessary interventions to improve residents' quality of sleep
There is growing evidence of the importance of good sleep and its impact on an individual's mood, behaviour and overall wellbeing. Recent research also shows that poor sleep quality over time is linked to dementia and other chronic diseases such has cardiovascular disease, depression and diabetes. However, it is also a known fact that the majority of seniors do not sleep well during the night and this negatively impacts their cognition, mood and behaviour the next day. The lack of sleep is also often a contributing factor in falls experienced by seniors.
At Langley Lodge, a long term care residence in British Columbia, Canada, staff are doing everything possible to help seniors achieve good sleep quality during the night because they have witnessed the positive impact on seniors who sleep well. Every bed is equipped with Toch Sleepsense, allowing staff to track and understand the sleep patterns of every resident and make the appropriate interventions to help seniors achieve a better sleep.
Staff noticed that the sleep report of Mr. Aikman showed a low Sleep Score with a sleep chart showing a high level of sleep disruption during the night. This senior's sleep report also provided evidence that he was taking long afternoon naps to possibly make up for the poor night sleep. Over the course of a week, staff focused on reducing the length of the senior's afternoon naps by keeping him occupied. This then resulted in the senior having a better, less disruptive sleep during the night and improving his Sleep Score.
"More importantly we noticed an improvement in the mood and cognition of Mr. Aikman. The intervention we took in this case was a behavioural change, but sometimes it may involve a medication adjustment"
Lisa Samms Maxwell
Director of Care at Langley Lodge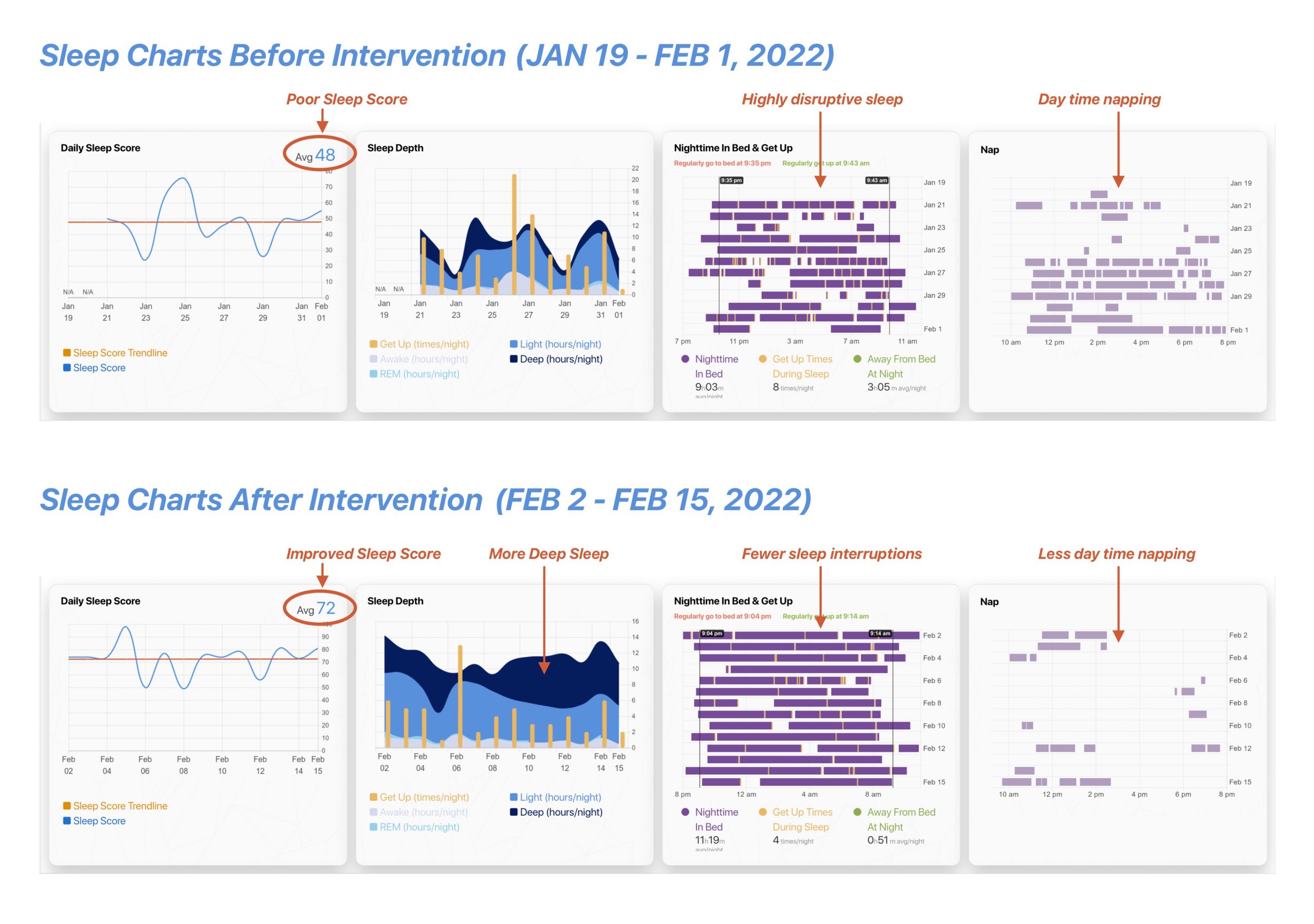 *Sleep Score is meant to provide a holistic view of how well you're sleeping on a daily basis and the trends in your sleep patterns. It is calculated according to multiple factors including: sleep duration, efficiency, interruptions and latency.
Sleepsense provides caregivers information to improve sleep quality that impacts improved cognition, mood and wellbeing in LTC residents.
Sleepsense provides unbiased sleep data that helps care providers take appropriate actions that will positively affect the cognition, mood and wellbeing of residents.